Some Anti-Oil Protest Pics From Last Weeks CAPP Sponsered UBCM Convention in Victoria, B.C.
Last week the Canadian Association of Petroleum Producers sponsored a reception event for the Union of BC Municipalities (UBCM) convention in Victoria BC.
Who are these people?
The UBCM is a somewhat complicated organization which aims to bring together delegates from various BC municipalities, First Nations groups, Regional Districts, etc. with the aim of providing an environment where ideas and concerns may be expressed.  This particular conference brought in roughly one thousand delegates form around the province.
If you go to the "about" page on the CAPP website you will learn that this group tout themselves as, "the voice of Canada's upstream oil, oil sands and natural gas industry" which kind of lets you know what they are about but not really.  CAPP is basically represents Big Oil production in Canada (a very sizable industry) and acts as a lobbyist organization to the government.
Items on this years UBCM agenda included Policing Issues, Cutting services provided by the Coast Guard, Decriminalization of Marijuana, and oil tanker traffic in BC.
So we have Big Oil sponsoring a political event where OIL issues are up for vote.  Here we see a rather transparent attempt to sway votes in BC in favour of the oil industry while Enbridge is still clawing its way towards having their pipeline project go through.  Public opinion vs. corporate interest.
The Powerpoint for the CAPP presentation can be found here:  http://www.capp.ca/library/presentations/Pages/default.aspx
Note the absence of social impact, First Nations land rights, habitat fragmentation, the under representation of GHG contributions, downplaying the fact that BC sits on major fault lines and the west coast is right under the Juan de Fuca/North American subduction zone, and many other blatant issues.
That's skinny.  About 100 people showed up to the venue to roll out the red carpet for delegates, offering a visual and vocal reminder that this is a very contentious issue which stands to do great harm to social groups and environs all across the province.  Free edibles and musical entertainment were also offered to sway any who may have been tempted by a free lunch (no such thing right?).  There were a couple of "get a job comments" and there were also some folks who obviously favoured what we were standing for with a few choosing to stay with the community rather than step inside.  One woman stopped to tell us that she was a NGO rep who actually purchased a ticket (not everyone had to buy) and was there to clog the halls and fight from inside" (AWESOME).
The end vote if you are interested was 51.3% in favour of the human race.  Did we impact the vote?  I can't say for sure but it is certain that people need to speak out and they need to speak loudly.  Our silence is out consent.
Below we have some pics that I shot on my crappy 8 mega pixel wonder cam  supplemented by some links to other folks lovely photo reporting.  I also included a photo of the reception as shot by CAPP.  What you see is a basically empty street with a 6:11 pm posting time on twitter. This is eleven minutes after the scheduled start of the organized protest.  suspicious?  You bet. Surprising?  Not at all.
The odd twitter pic from the CAPP account: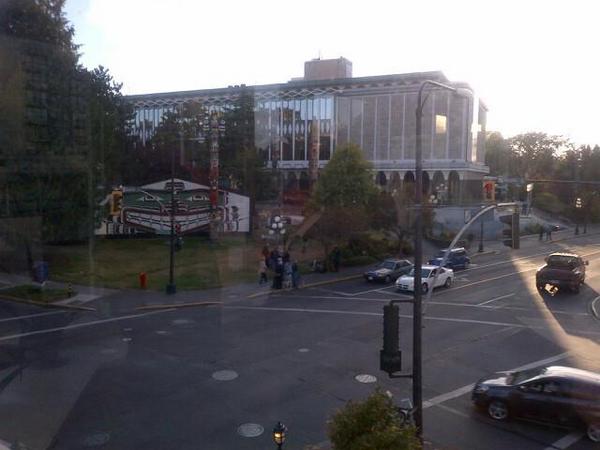 Another photo/twitter oriented report from Liz McArthur on Storify :  http://storify.com/lizmedia/demonstrators-roll-out-the-red-carpet-for-oil-exec?utm_content=storify-pingback&awesm=sfy.co_j9mh&utm_campaign=&utm_source=t.co&utm_medium=sfy.co-twitter
UBCM website: http://www.ubcm.ca/
CAPP website:  http://www.capp.ca/Pages/default.aspx
Comments and Sharing are always welcome,
Static_Animal
This entry was posted on October 1, 2012 at 4:50 pm and is filed under Activism, Blogging, Canada, Economy, Environment, Food For Thought, Industry, Justice, News, Politics, Social Justice, Society, Uncategorized with tags Activism, B.C., Big Oil, Canada, CAPP, Corporations, Direct Action, Economy, Environment, Influence, News, Pipe Line, Politics, Protest, Society, UBCM, Victoria. You can follow any responses to this entry through the RSS 2.0 feed. You can leave a response, or trackback from your own site.
One Response to "Some Anti-Oil Protest Pics From Last Weeks CAPP Sponsered UBCM Convention in Victoria, B.C."